Natural beneficial effects
Natural origin ingredients
Every one of our products follow the same rule: they all contain invaluable substances that come from nature. We select these extracts for the natural beneficial effects they have on the entire body. Each plant extract contains active ingredients that play a specific role. The combination of several extracts allows each of their actions to be optimized.
List
Discover our ingredients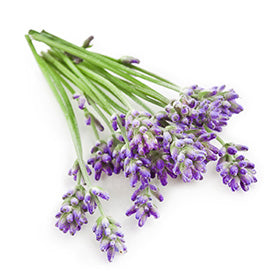 True lavender essential oil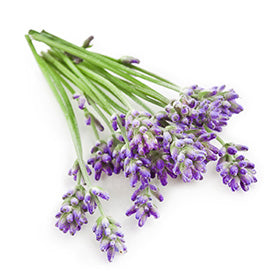 True lavender essential oil
If you could only have one essential oil in your medicine cabinet at home, it should be lavender! A hint of its fragrance is all you need to naturally calm the body, mind and soul. And what if it had the same effect on your skin? It's a truly magnificent oil, thanks to its fragrance and its wide range of uses.
The true lavender essential oil used in aromatherapy helps soothe, relax, and relieve discomfort caused by headaches, colds and coughs. It also helps relieve muscle and joint pain associated with sprains, strain or rheumatoid arthritis. Naturally rich and aromatic, it can be diffused, inhaled or put directly on your skin when diluted.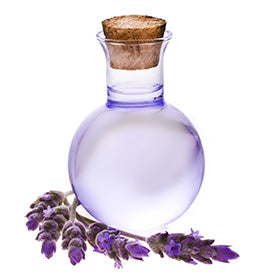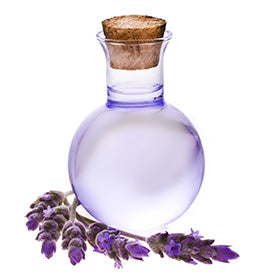 Floral water
Floral water is obtained by condensing the vapours extracted from an essential oil, while scented water has a certain amount of essential oil added to it. Needless to say, one of these products is purer than the other! Floral water is the highly-valued water collected after distilling true lavender.
True lavender floral water gives skin a rejuvenated appearance while protecting its moisture barrier and soothing dry skin. Additional benefits include softening skin and leaving it feeling refreshed as well as reducing redness associated with dry skin.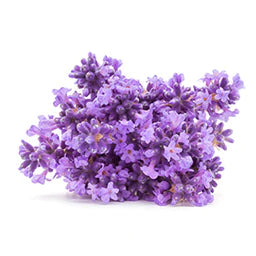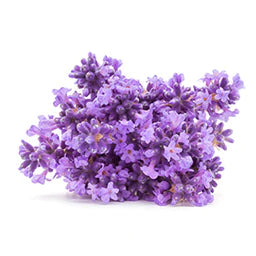 Sea Lavender
Sea Lavender is an ingredient with exceptional anti-aging properties that makes skin feel wonderfully supple. It protects from dehydration and gives skin a smooth, firm appearance—especially skin that is most likely to show signs of aging.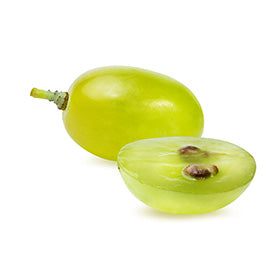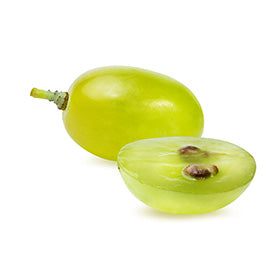 Grape seed oil
This oil is chock-full of minerals, proteins, essential fatty acids, flavonoids (which are excellent antioxidants) and vitamin E—for younger-looking skin. It slows down signs of skin aging and makes skin look visibly rejuvenated and radiant.
Safflower oil
Safflower oil is extracted from its seeds. This oil is very rich in vitamin E and essential fatty acids (omega-6), which improve skin's elasticity. They play an indispensable hydrating and nutritional role in skin softness, radiance and suppleness. Vitamin E also helps prevent the appearance of premature signs of aging and helps keep skin from weakening.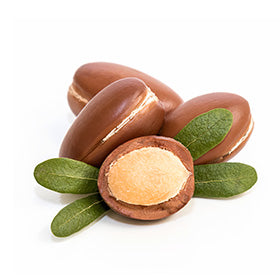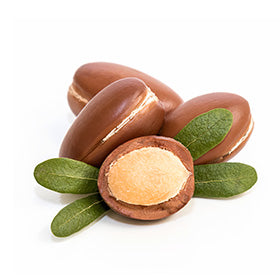 Argan oil
Argan oil has always been used by Moroccan women in their beauty routine. It is a natural oil derived from the tree's nut with cosmetic benefits related to skin aging.
Exceptionally rich in omega-6 essential fatty acids, vitamin E and polyphenols, argan oil is brimming with highly moisturizing, antioxidant and regenerative properties for the skin's moisture barrier.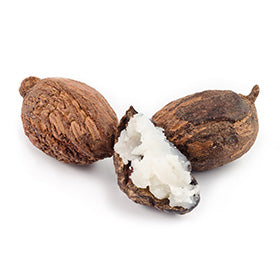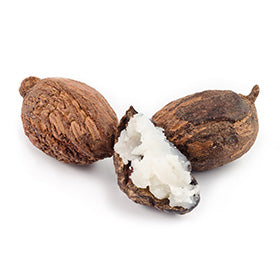 Shea butter
Shea butter is extracted from the fruit of the shea tree, which grows in the West African savanna. The fruits produced by this tree resemble nuts containing a sort of white almond that is naturally fatty. After processing, it becomes the well-known yellowish paste called shea butter.
It has been used in Africa for millennia. It's said that Queen Nefertiti owed her great beauty to shea butter, as it offers extraordinary benefits for the skin. It's moisturizing properties deeply nourish skin, making it soft and supple. Vitamins A, D, E and F make it even richer and more beneficial—for healthy, radiant skin.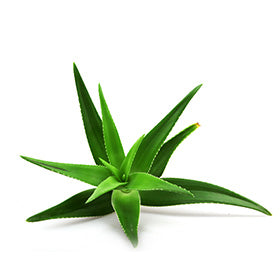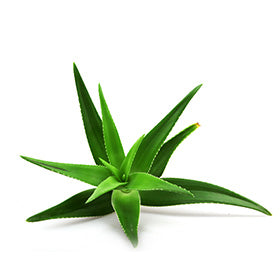 Aloe extract
Aloe Vera, or Aloe Barbadensis, is a small green cactus that grows primarily in dry regions. 85% of the gel found in this plant is composed of a water rich in minerals, dietary elements and vitamins (A, B1, B2, B3, B6, B9, B12, C, E).
Aloe gel is an excellent moisturizer: it counterbalances water lost from skin and has a deeply soothing effect on dry skin.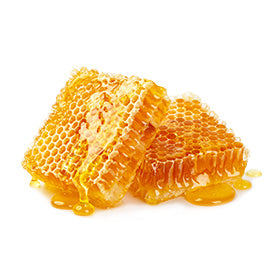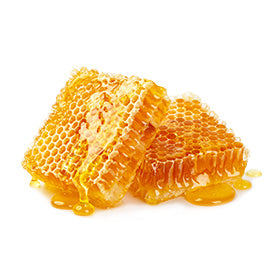 Beeswax
Beeswax is a natural product with many virtues. It's known to protect from dehydration and to soften skin.
It also has highly attractive restorative properties that are beneficial to dry, damaged lips and skin. It contains high levels of vitamin A, a naturally occurring component that helps protect dry skin while bestowing a smoothing effect on the epidermis—for healthier-looking skin.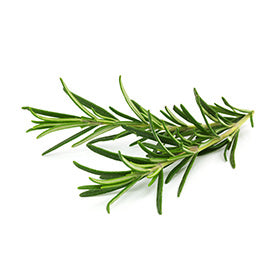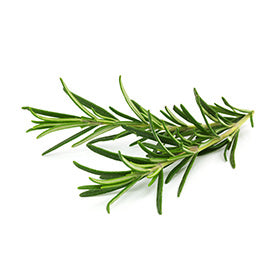 Rosemary essential oil
Whether in the kitchen, in cosmetics and for phytotherapy, we use rosemary's dried leaves and flowery tops that contain the greatest concentration of the active ingredients.
Rosemary contains a high quantity of active substances known to have beneficial effects for the body. Used in cosmetic products, rosemary essential oil leaves skin visibly invigorated, rejuvenated and bright.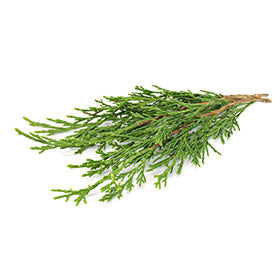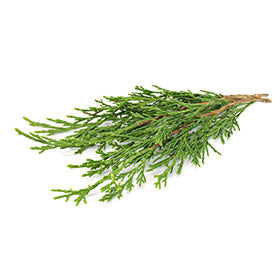 Cypress essential oil
Cypress essential oil comes from the bush of the same name and has energizing and toning properties.
It has benefits for heavy/tired legs syndrome thanks to its refreshing effects that generate a relaxing feeling. It also improves the appearance of cellulite by hydrating skin.
Juniper essential oil
Juniper essential oil is highly prized and recognized for its pain-relieving properties. It is a must when it comes to eliminating toxins, giving skin a healthy appearance.
It is a valuable tool in eliminating water from bodies that can no longer do so normally. It revitalizes blood flow and is therefore recommended for cases of water retention and cellulite problems.
Camphor essential oil
Camphor comes from the fragrant camphor tree (Cinnamomum Camphora), which grows very tall, reaching up to 50 metres high and 12 metres in circumference. This tree belongs to the laurel family, with white or cream coloured flowers and red or blue-black, berry-like fruit.
Camphor oil is very well known for its stimulating properties, toning the body and mind, and energizing effects that strengthen and reinvigorate tired muscles.
Sea mineral salts
From Canadian soil in Saskatchewan, very high-quality sea mineral salts, composed of 100% pure and natural Canadian potash, are collected below ground where a buried sea has lain for more than 400 million years.
They gently exfoliate skin and replenish its minerals—for healthier skin—as well as naturally eliminate toxins excreted from pores.
The purity and richness of these minerals have made them famous among the most prestigious therapists in North America. Rich in magnesium, potassium and sodium, these salts exfoliate and moisturize all while serving as a natural toner for skin.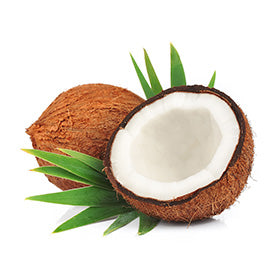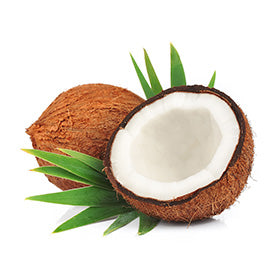 Coconut oil
Coconut oil is produced by pressing pulp from fresh coconuts. Coconut oil enjoys an incredibly nutritional make-up because of its naturally high levels of essential fatty acids that help counter dehydration.
It also contains vitamin A and vitamin E, giving it antioxidant properties and leaving skin radiant. It is a gentle oil with restorative and hydrating benefits for dry skin.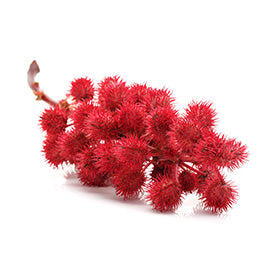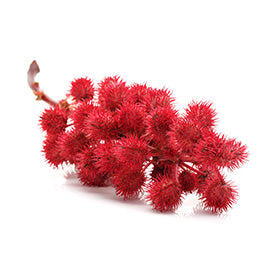 Castor oil
Called simply "castor oil" under INCI classification, this oil is in no way associated with "castor" (which is French for beavers)! Its full name is Ricinus communis seed oil. The castor is a tropical tree (Brazil, India, Africa) that often has dense green foliage, flowers and occasionally thorny fruit. It's inside this fruit that we find the famous seed that provides the oil.
The specific fatty acid it contains—ricinoleic acid—makes this oil a beauty care product with well-recognized virtues, as it softens skin and regenerates its moisture barrier.
These properties have been lauded since ancient times when Cleopatra used it as a makeup remover.
Eucalyptus (globulus) essential oil
Eucalyptus (globulus) essential oil
Native to Australia, the eucalyptus genus has spawned more than 600 species, from simple shrubs to huge trees. Several tree-like species have been cultivated in the Mediterranean basin for many years as well as in all subtropical regions, both East and West.
Among the various eucalyptus essential oils, Eucalyptus Globulus is without a doubt the most effective and the most powerful when it comes to respiratory matters.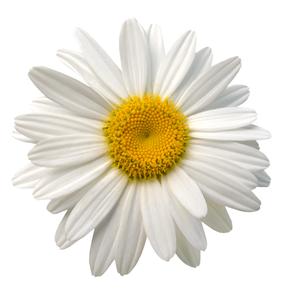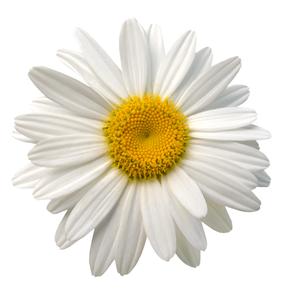 Chamomile essential oil
Chamomile is the common name for several species of plants in the Asteraceae (Compositae) family. Its original Greek name means that it grows near the ground (chamos) and that its yellow flowers smell like apples (melos).
Chamomile is an herb that grows far and wide throughout Europe. It was used in ancient times to treat fevers and sun exposure and, in the Middle Ages, to relieve intestinal problems and encourage sleep.
Chamomile is highly prized by those with sensitive skin as it generates a soothing feeling and is also associated with softening effects.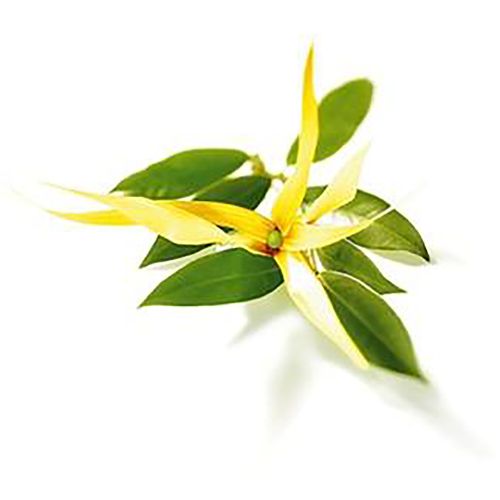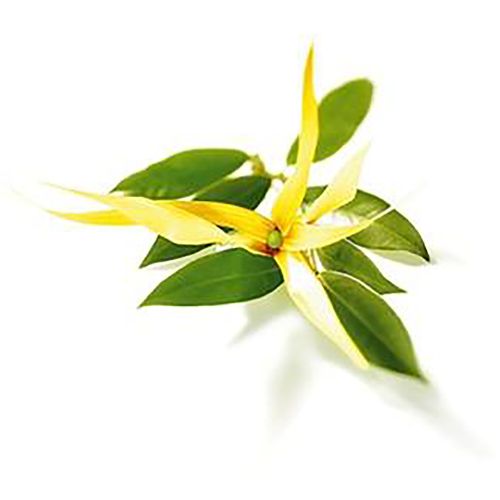 Cananga essential oil
Cananga essential oil has many virtues. In aromatherapy this oil is used as a tranquillizer. Not only does it regulate blood pressure, it also soothes the mind and stabilizes the central nervous system. It also allows the muscles to relax in the event of spasms.
When applied to the skin or poured into a bath, this oil acts directly on your entire body and promotes relaxation. Thanks to cananga essential oil, your skin will be softer, less dry and less dull.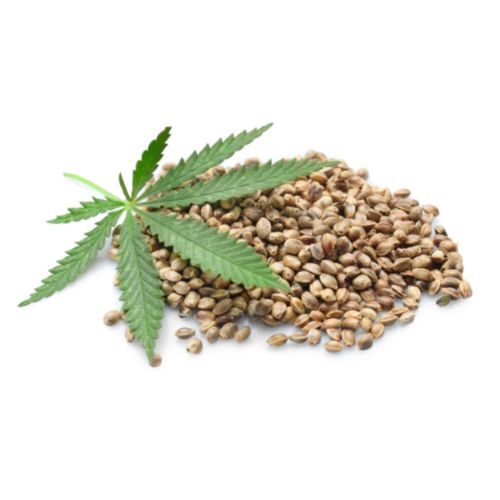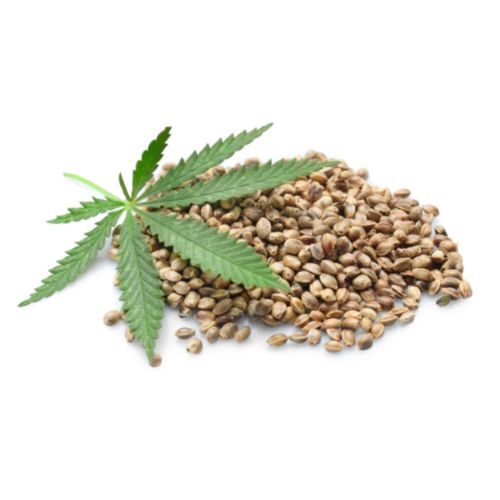 Hemp seed oil
Hemp oil is obtained by cold pressing hemp seeds. It owes its cosmetic qualities to its high content of vitamin E, omega 3 and omega 6. Their percentage and balance make the oil very close to human sebum.
It offers its virtues both on the skin and hair. It is an excellent deep moisturizer (to the dermis) which also contains omega 9, vitamin E (gamma-tocopherol), amino acids and minerals. It acts as an antioxidant, anti-aging, emollient and softener. A must for smoother, healthier-looking skin.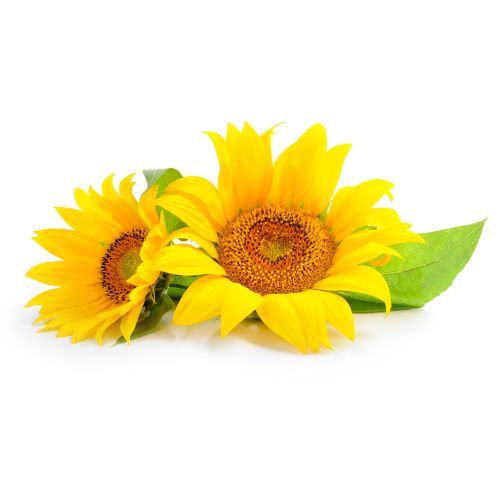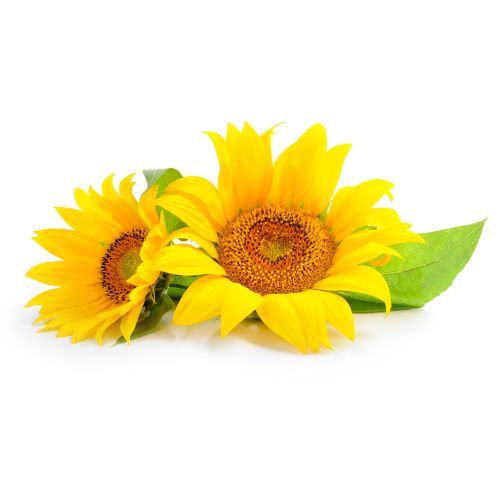 Sunflower oil
Sunflower oil is mainly known for its culinary use, but it is also full of benefits for the skin and for general well-being.
Its asset? An exceptional linoleic acid content, which can exceed 75% of its composition. This polyunsaturated fatty acid (omega 6) plays a crucial role in the hydration of the skin, which cannot synthesize it. By protecting and strengthening the nucleus of cells, it helps them to fight against aggression (UV, pollution…).
It has a high concentration of vitamin E which, by its powerful antioxidant action, protects the youth of the epidermis by maintaining the entire cell membranes. Better defended, the skin ages less quickly.
Ingredients to avoid
At Bleu Lavande, we create products without harmful ingredients. They contain 0% paraben, sulfates, artificial perfume, MIT, DEA, phthalates, chlorine, phosphates, or other petroleum-based products. Discover the reasons why.
COMMON NAME: PERFUME/FRAGRANCE
If you see the word "PERFUME" on the list of ingredients you should be cautious. It means the product contains artificial perfume and consequently is harmful and irritating for your sensitive skin. That's why extracts from plants as well as plant essences combined with essential oils are chosen over artificial perfume in our products.
The Environmental Working Group, an authority on the subject, has performed numerous tests to build its database on the toxicity of beauty products, and the results show that "the average product contains 14 different perfumes, including chemical components which are associated with hormonal disruptions and allergic reactions."
We don't develop 'average' products. We want what's best for you and your environment, we're all worth it!
COMMON NAMES: PROPYLPARABEN, BUTYLPARABEN, METHYLPARABEN AND ETHYLPARABEN
Parabens are anti-microbial and anti-fungal preservatives allowing product life to be increased and which stop the spread of bacteria. However, this comes at a cost. They've been associated with a possible risk of breast cancer and could act as an endocrine disruptor by imitating estrogen in the human body.
The dermatological risks are real, and premature ageing of the skin when exposed to sunlight may be increased. Stay tuned and take care with the list of ingredients in your products!
COMMON NAME: METHYLISOTHIAZOLINONE
MIT is an allergen preservative unknown to the public but often used by the skin care product industry. This allergen that replaces parabens is methylisothiazolinone or MIT. This preservative, declared by the American Contact Dermatitis Society as an allergen in 2013, is found in most Canadian households. It's hidden in shampoos, soaps, creams, foams, detergents, makeup, dish washer detergents, etc. Burns and swelling can occur when a product containing this ingredient is placed in direct contact with the skin, and some individuals can develop eczema from contact, while it's also toxic for aquatic organisms causing long term harmful effects.
Health Canada recently informed the industry that it was considering a ban on the use of methylisothiazolinone in products that are not rinsed off afterwards (facial and body creams, makeup, etc.) and reducing the maximum concentration allowed in certain products which are rinsed off (body cleansers, shampoos, etc.). We've taken the lead and have decided to eliminate it from our products because for us health comes first. Our skin is our largest organ, let's take care of it!
COMMON NAME: DIETHANOLAMINE
DEA is what they call a "wetting" agent and is primarily used in shampoos and lotions to provide lather. It can also be found in brake fluid, degreasers and antifreeze. Now there is something we don't want to put on our body in the shower. Supposedly this chemical is not too harmful all by itself; but it reacts none-too-nicely with other chemicals in our products and can create a very potent carcinogen called nitrosodiethanolamine (NDEA), which is readily absorbed through the skin and has been linked with stomach, esophagus, liver and bladder cancers.
And according to some studies, DEA directly inhibits fetal brain development in mice by blocking the absorption of choline, a nutrient required for brain development and maintenance. DEA is also associated with miscarriages in laboratory studies. This gets better by the minute!
COMMON NAMES: DIBUTYL PTHALATE or DBP, DIETHYL PHTHALATE or DEP, DIETYLPHTALATE
Phthalates are also prominent in cosmetics: perfumes, deodorants, hair sprays, gels, nail polish, aftershaves and lubricants. They're also used as binding agents. We should be wary of them because just like with parabens, phthalates are suspected of being endocrine disruptors (risks for reproduction, fertility and the development of the foetus) and are also accused of increasing the risk of diabetes, a disease which seems to increase hand-in-hand with our exposure to phthalates.
WARNING! Many cosmetic products containing perfume may hide the phthalates without clearly indicating their presence. In this case, to limit the risk, it's better to choose products which have perfumes stated to be from 100% natural sources or from essential oils, as is the case with all of our products.
As I am allergic to several products on the market, I appreciate having a natural product. Thank you Bleu Lavande!
D. Tremblay
Online boutique
View products